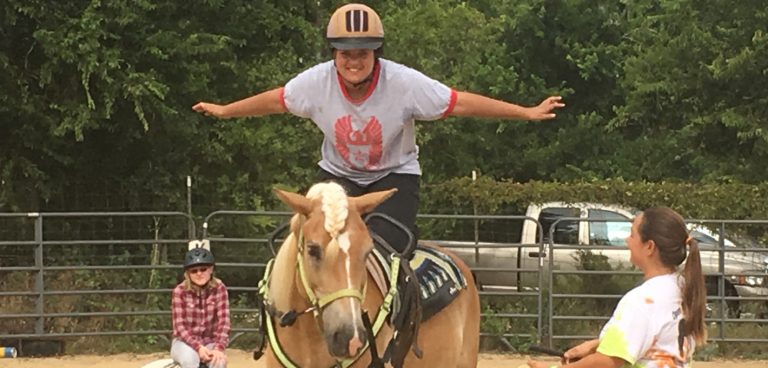 Currently, Interactive Vaulting is incorporated into our other programs. Some Equine Assisted Learning Lessons and Therapeutic Riding lessons will include Interactive Vaulting to add another element into the learning with the horses. 
Interactive vaulting, also known as therapeutic vaulting, combines independence and teamwork, teaches individuals to respect the horse, encourages social interaction, builds confidence, introduces all gaits within a little period of time, and offers individualized instructions while mounted. It also improves the way a rider sits on a horse as well as rhythm, balance and coordination.
Vaulting can be defined as exercising gymnastics on the back of a horse and around a horse. It combines the skills of both horsemanship and gymnastics. The movements can be pretty basic, such as sitting on the horse without holding on to the surcingle; or a more intricate compulsory move such as standing or kneeling on the back of the horse. Everything depends on the individual need of the person vaulting.
Vaulting is one of the safest, and at the same time spectacular, of the equestrian sports. Dating back to the Minoan period, this ancient sport demonstrates mobility and flexibility while on horseback. In competition similar to gymnastics and skating, vaulting also has routines that are compulsory, as well as freestyles, and it is all performed to the sound of music, therefore, music interpretation is an essential part of vaulting.
To be successful in vaulting, not only will the student or competitor be trained but so also will the horse. To execute the more elaborate vaulting movements, one needs to have a high level of rhythm and agility as well as strength. All of these moves are practiced on a barrel and on the floor before finally being moved to the horse. For the higher levels, the movements practiced on the horse are done at a canter, and for this to be executed successfully, the person vaulting must not only be equipped with the ability to control his/her own rhythm but must also be able to predict and interpret the capabilities of the horse they are working with.
In order to be able to deal with the difficulties of competition, and of consistent practice, which is vital for improvement, both the horse and the vaulter need to be fit. Also, it is very essential for a team or group of persons who are vaulting to have more than one horse available for use and practice.
WHO CAN VAULT
Everyone can vault; vaulting is not a sport specific to a particular age. It can be exercised as a fun activity or as a world sport. Integrated vaulting or therapeutic vaulting is practiced by people with specific types of disabilities. Vaulting is also a great way for adults to regain their confidence, learn horse riding, or improve their riding skills.
STARTING WITH VAULTING
Exercises are first practiced on a barrel, then transferred to a horse at walk, and as the participant gets better, at a canter.
Schedule a Visit
Come spend time with our amazing horses and learn more about how we can serve your rider
I was paying an exorbitant amount of money for physical therapy and seeing no improvement and was experiencing poor self esteem. Since Open Trail Ranch, I look forward each week to visiting my horse and working to improve my body motions for the next week. I love it and would recommend Open Trail Ranch to anybody who is considering a change in therapy or to experience peace. I feel real again. Thank you.