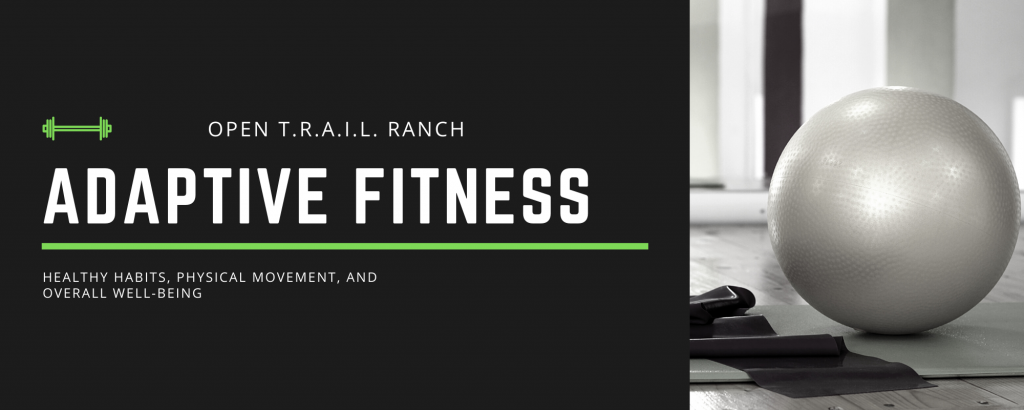 Open T.R.A.I.L. Fitness Program is an inclusive fitness program for participants with special needs, their family members, and their caregivers to encourage healthy habits, increase physical movement, and improve overall well-being.
Who can participate: 
Participants with Special Needs, their Family Members & Caregivers
When: 
Join us up to 2 times a week beginning Saturday, April 3 through Saturday, May 22
Tuesday: 10:00-11:00am
Saturday: 8:00-9:00am
Where: 
Classes will be held at Open T.R.A.I.L. Ranch. Pastures, barns, round pen and sensory trail area may be utilized and class may move around the facility during class. We will always be outside and maintain safe spacing between other participants. Please note that class may take place on uneven surfaces.
Cost: Per Participant, Parents/Caregivers are not charged
$10 per 1 class signed up in advance (more than 48 hours notice)
$15 per class drop in price (sign up within 48 hours of the class)
$18 per week to attend both classes
$65 for a membership to have access to all of the month of April (8 sessions)
$60 for a membership to have access to all of the month of May, through May 22 (7 sessions)
$120 for 2 month pass (April & May)
What to Expect:
Each class will consist of simple cardio and upbeat movements, strengthening exercises and light stretching and mobility taught by Diane Kirksey, Certified Group Fitness Instructor and Certified Therapeutic Recreation Specialist. Classes will be adapted to fit the needs of those who attend.
How To Participate:
Sign up by emailing Info@Opentrailranch.org including which class and payment option you would like.
Payment may be received by cash or check or paid online.
Provide a signed Release of Liability and COVID-19 Agreement. You can print these below and bring them or sign them on site.
Show up on time. Check in and answer COVID-19 questionnaire.
What to Bring/Wear:
Water bottle
Closed toe, comfortable shoes
Comfortable clothes to move in
Sunscreen, hat and/or sunglasses as class will typically be outside
Face mask to be worn while checking in and after class
Personal towel if desired 
COVID -19 Protocols during Adaptive Fitness Classes:
Temperature and COVID-19 questionnaire will be required at check in. Participants, parents and caregivers will be required to wear a mask to and from the area of the class. During the class, participants will be spaced appropriately and safely distanced and will not be required to wear a mask while exercising.
Always consult your physician before beginning any exercise program. 
If you have questions about the program, please reach out to Diane Kirksey, CTRS, diane@opentrailranch.org or reach out to our main email info@opentrailranch.org.